Also known as: Arterial doppler ultrasound
Duration: About 30 to 45 minutes
A duplex is a noninvasive test that combines both the doppler and the ultrasound. It can be performed on either your arteries or veins.
Areas generally tested:
Peripheral Arteries (arms & legs) – Arterial Duplex
Carotid Arteries (neck) – Carotid Duplex
Renal Arteries (kidneys) – Renal Duplex

In an arterial duplex, two different probes/ transducers (one for the doppler and one for the ultrasound) are used to measure how well the blood is flowing in the peripheral arteries.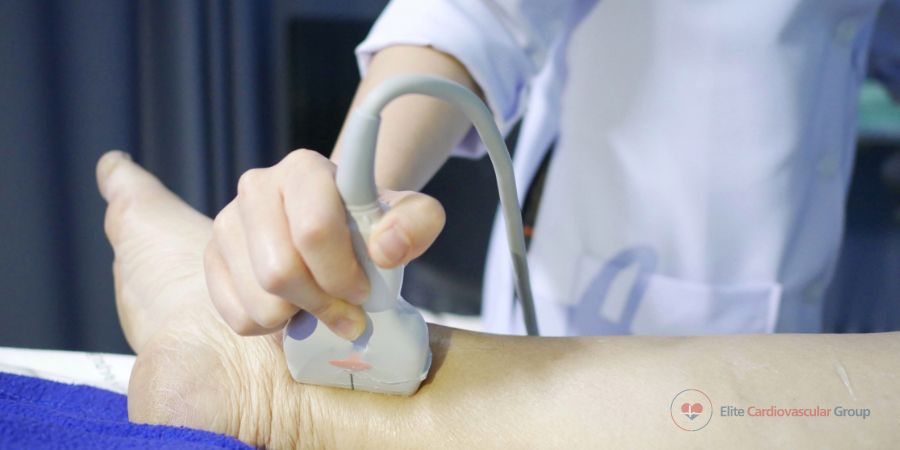 Uses:
To check for any stenosis/narrowings in the peripheral arteries of the legs or arms (also carotid arteries in the neck and renal artery in the back)
To check for decreased blood flow – ex: peripheral arterial disease (PAD)
To check for blood clots
Preparing for the test:
Download Pre Test Instructions
How it is performed:
A technician applies a gel over the lower extremities (legs or ankles) or upper extremities (hands, arms, shoulder, or neck).
The ultrasound probe is held firmly against your skin and glided in multiple directions as it sends out sound waves to the peripheral arteries. Images are created when the probe picks up sound waves that bounce back from the arteries.
Then the doppler probe is held firmly against your skin and sends out sound waves to the red blood cells in the leg or arm arteries. The blood flow is heard and assessed for any stenosis/narrowings or blockages.
After the test:
Your cardiologist will discuss the result with you.
You can continue with your daily routine.
Ask your cardiologist if you have any questions or concerns.
---
Show references
Crawford JD, Perrone KH, Jung E, Mitchell EL, Landry GJ, Moneta GL. Arterial duplex for diagnosis of peripheral arterial emboli. J Vasc Surg. 2016;64(5):1351-1356. doi:10.1016/j.jvs.2016.04.005
Cheung ME, Singh V, Firstenberg MS. Duplex Ultrasound. [Updated 2020 Sep 17]. In: StatPearls [Internet]. Treasure Island (FL): StatPearls Publishing; 2020 Jan-. Available from: https://www.ncbi.nlm.nih.gov/books/NBK459266/